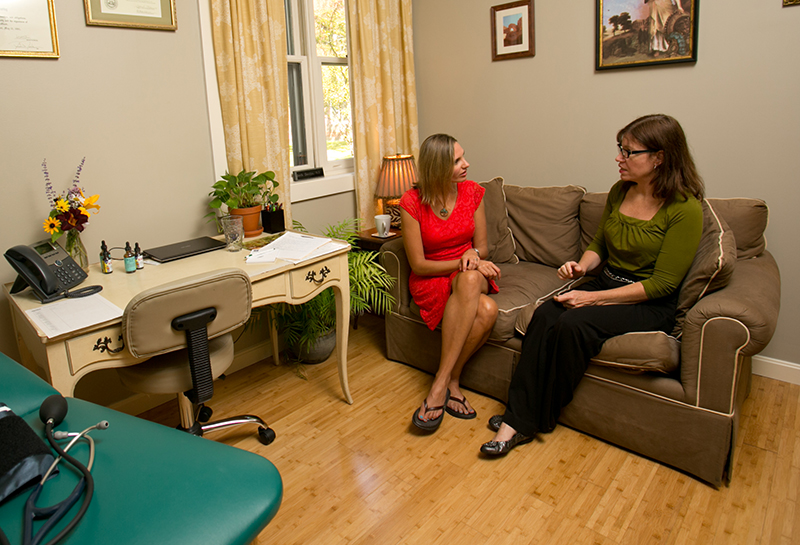 Dr. Devlin creates a safe, comfortable and nurturing environment for addressing the special needs of women. Commencing with a thorough intake interview, she follows up with a physical exam and possible testing. Using this information, Dr. Devlin creates for each patient a highly customized treatment plan, which may include dietary suggestions, herbal formulations, nutritional supplements and/or homeopathic remedies.
"I have been referring my patients to Dr. Devlin for over a decade to help with many issues such as endometriosis, chronic pain, bleeding, PMS, general health, fatigue and emotional issues. I appreciate her professional, multifactorial adjunctive approach that could include detoxification, healthy diet, energy treatments, homeopathy or acupuncture. She takes the patient from where they are to where they want to be medically, physically and emotionally. Elemental Medicine doctors have the time, the compassion, and the training to offer the modalities that I cannot. My patients always return very satisfied with their experience."

—Dr. Terry Vanderlinde, DO-GYN, Dover, NH
Whether a patient is a young girl dealing with acne, PMS (pre-menstrual syndrome) and severe cramps, or is a woman in midlife experiencing hot flashes, mood changes and forgetfulness, or is a post-menopausal woman dealing with osteoporosis, Dr. Devlin can guide her back to balance.
Dr. Devlin also performs routine annual, gynecological examinations, Pap smears and vaginal or urinary tract infection screenings. She compassionately and non-judgmentally supports women of all ages in dealing with sexually transmitted diseases (STDs).
When hormonal imbalances are suspected, she may recommend salivary hormone tests. In some cases, she will order bio-identical hormone formulas customized for each patient.
Dr. Devlin guides her pregnant patients naturally through morning sickness, fatigue, skin issues and other common complaints. She is a DONA trained birth doula.
"What's significant about my passion for women's health is I get to support women through all their milestones, from puberty into childbearing years, menopause, and into elder years of passing on. Every stage is a metamorphosis. A wise woman once told me of the story of the butterfly – when the butterfly is in its cocoon it throws itself against the walls of the cocoon. This action is what strengthens the butterfly's wings so when it gets out, it can fly."
—Dr. Beth Devlin
Educating and empowering women around self-esteem is also part of her mission – whether she is listening to a teenager wondering if she should take birth control pills or not, or hearing about a newly single woman exploring her sexuality post-divorce.
Dr. Devlin is skilled at helping all women create optimal health through a vast tool chest of options, which combine her rigorous medical training with her strong intuition.
She has particular great success in treating infertility and pre-cancerous conditions of the cervix.
Cervical Treatments
In treating pre-cancer cervical tissues that show up in abnormal PAP smears, Dr. Devlin has had great success using an added skill set. She is one of a half-dozen naturopathic doctors in the country who performs escharotic treatments, an in-house topical method for removing pre-cancerous cervical tissue. Patients in childbearing years particularly like this option for treatment, as opposed to surgeries that could create obstacles later in maintaining a pregnancy.
"Dr. Devlin gave me herbal tinctures and suppositories to administer daily and asked me to come in for regular cervical treatments, where she applied bloodroot and other healing anti-cancer plant medicines. The proof was in the pap (!) and I'm now going on three consecutive years of completely normal tests. I never tire of telling this amazing story."
—Kate Gilbane, Boston, MA
Infertility
"I first met Dr Devlin after my second miscarriage. She suggested personalized treatments that included modifications to my diet, a gentle detox and the prescription of herbs to support my thyroid. I have yet to meet another doctor who is as intuitive and empathetic. With her guidance I was successfully able to carry my third baby to term. I cannot stress enough how grateful I am to have been accompanied by Dr. Devlin on my fertility journey. I am now the proud mother of a wonderful 20-month-old toddler who is a bundle of health. My husband and I look forward to expanding our family and to continue this journey with the guidance of Dr. Devlin."
—Paula Fleury, Meredith, NH